Gmunden as Austria's most stylish lakeside leisure town
Client

Gmunden

Year

2023

Type

Web Solutions
Briefing
With the new web portal, the city of Gmunden wants a modern, lively, joint appearance of all communities of interest and departments. The city not only wants to offer its users a diverse, exciting, up-to-date and detailed range of high-quality information, but also to invite them to linger on the site with a distinctive user experience. A positive user experience for guests of the city as well as for residents and companies should be in the foreground.
The new web portal aims to achieve a high dwell time, an increase in the number of hits and a rising relevance in search engines.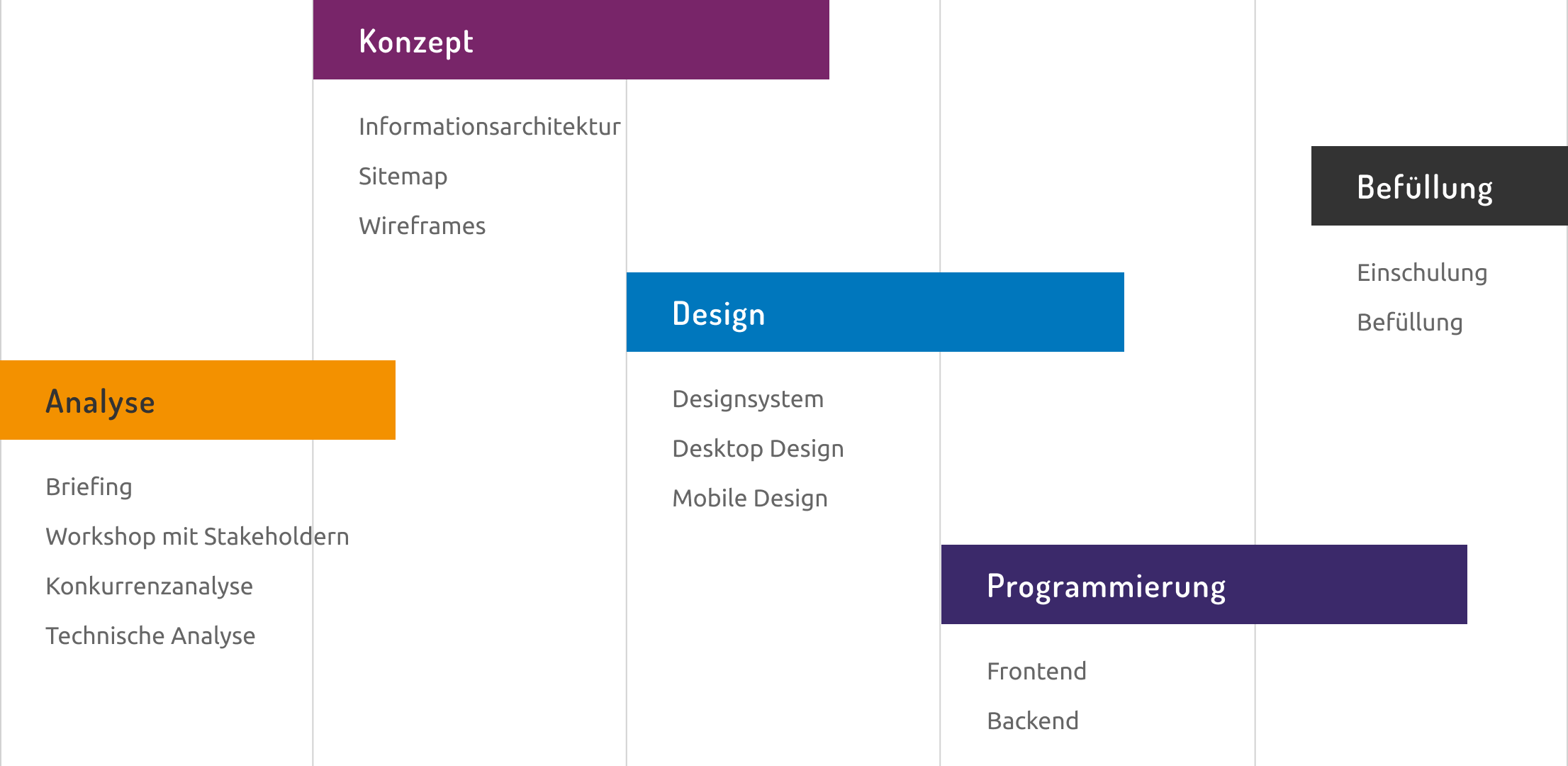 Roadmap Gmunden Webrelaunch
Challenges
Until now, there was a multitude of individual digital solutions that differed in structure, design, responsibility and system. The new concept is intended to merge the digital landscape and cover all internal interests and requirements of the city of Gmunden, while also meeting the needs of all defined target groups.
Solutions
In a multi-stage process, we invited all stakeholders to workshop sessions and asked them which content and features were required for the respective department and which factors were relevant for a successful new web presence. Together with existing analysis data and the initial briefing, we molded this feedback into a concept that also took external platforms and interfaces (e.g. event platforms, Culture Capital 2024) into account.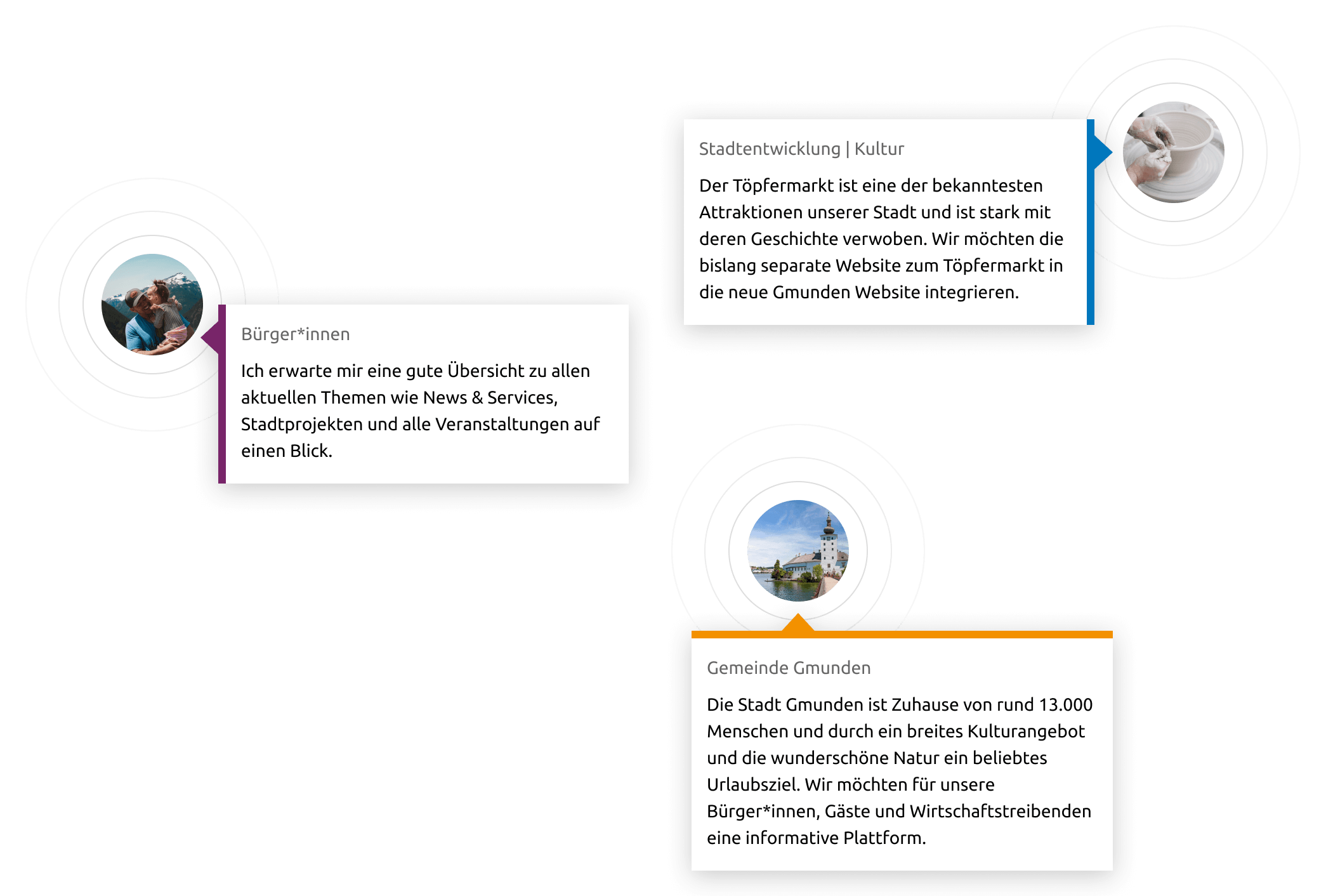 UX/UI Design
Visually, we took our cue from the "Gmunden brand" and translated it into an aesthetic digital world: service-oriented, participatory & cross-generational. The technical basis for this is WordPress with a flexible and scalable component system.

Information architecture
The many existing individual solutions were replaced with a new information architecture. Main topics such as "pottery market" are presented as landing pages. There, all relevant information about the topic is presented in an emotional way. Each landing page can have its own menu structure and is nevertheless embedded in a superordinate overall structure.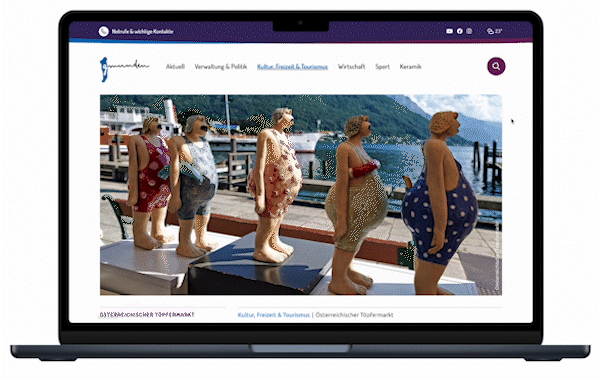 Calendar of events
A core feature of the new Gmunden website are the events. Events can be created in the backend with all necessary information. One-day, multi-day and recurring events can be created and duplicated with a specially developed event generator. The website can be filtered by date, location and categories. Interesting events can be added to one's own calendar. An interface allows the municipality of Gmunden to automatically import selected events in the Salzkammergut and display them on their own website.

About Gmunden
Gmunden is located on the shores of Lake Traunsee. The town offers breathtaking views of the surrounding mountains of the Salzkammergut and is known for its natural beauty as well as its historical and cultural attractions. With its charming streets, buildings from centuries past and numerous recreational activities such as sailing, hiking and skiing, Gmunden is a popular destination for tourists from all over the world. The town also has a rich history and is known for its ceramic production, which has played an important role in the cultural heritage of the region for centuries. It is showcasing this as part of the 2024 European Capital of Culture.
---